GIOVANI BERNARD
NEWS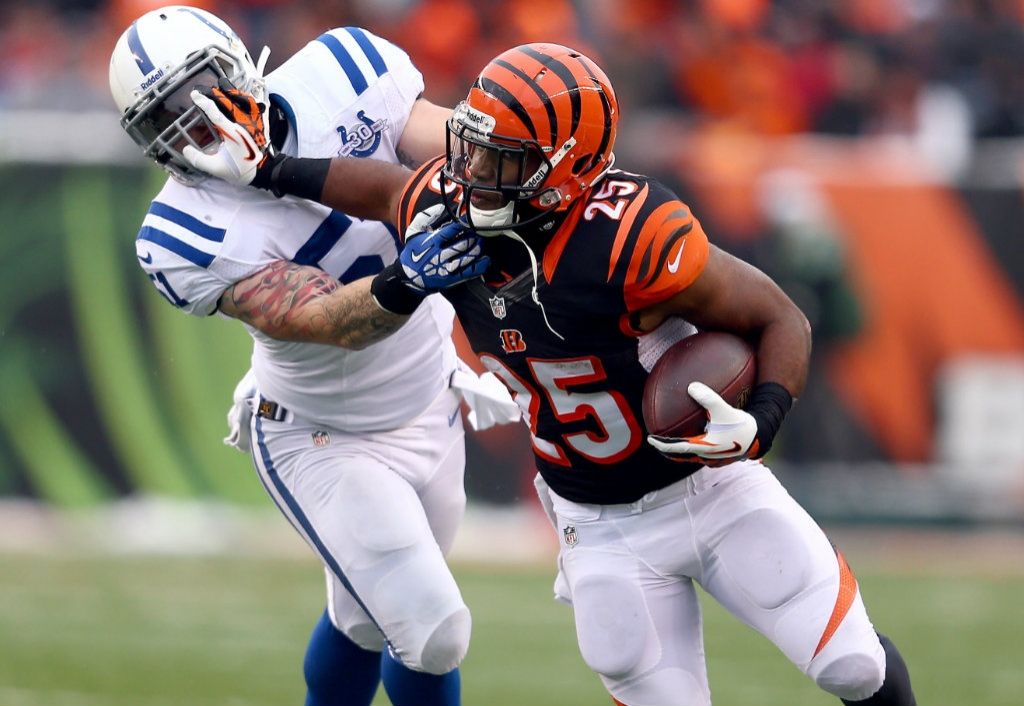 Giovani Bernard Will Exceed 2014 Fantasy Football Expectations
POSTED BY: GIOVANI BERNARD in NEWS
Expectations are built into Giovani Bernard's 2014 fantasy football stock, but they just might not be enough.

The love-hate relationship between those who believe in the stock and those who do not is one of this year's most interesting fake football scenarios.

Bernard is an explosive young back who has yet to hit a ceiling, but detractors will point out that he seemed to fall off toward the end of his rookie season and is mired in a committee approach.

Alas, running back is ridiculously unpredictable this year after the top four names come off the board, so it makes sense that the state of the position, in tandem with expectations, has swelled Bernard's average draft position to 2.05 as the No. 9 back taken.

Despite being mired in a committee with veteran BenJarvus Green-Ellis in his debut season, the former North Carolina star still produced enough to come in as a top-20 scorer. The final tally was impressive given the circumstances:

Year G Rush Yds Avg TD Rec Yds TD
2013 16 170 695 4.1 5 56 514 3
ESPN

Green-Ellis is still around as he heads into the final year of his contract. Cincinnati also added a back of similar stature and play in LSU's Jeremy Hill in the second round of the 2014 draft, suggesting a committee approach will continue to be the norm.

Yet most of the talk coming out of the Queen City—and more importantly, the actions—suggests Bernard will be a feature back well in the neighborhood of 300 touches next year.

It was easy to scoff after the first preseason game when Paul Dehner Jr. of Cincinnati.com wrote that he thought Bernard would take "a good share of goal line carries." In the second preseason game, he did just that by handling all of the red-zone work and scoring a touchdown from one yard out.


According to Pro Football Focus (subscription required), Bernard has taken 27 snaps in two preseason contests this year, which turns out to be the exact same number as quarterback Andy Dalton.
There's a reason for that. Bernard is clearly the lead back, and the staff would not just throw him workhorse-type reps during exhibitions if he were not.

The staff does not seem too worried about Bernard's ability to hold up under an increased workload, either. It is a valid criticism that he fell off late last year, but it is important to remember that he finished against a pair of top-12 defenses over the course of his final four games, including the postseason, and posted 171 receiving yards in his final three games.

In fact, the writing has been on the wall all offseason that Bernard is due for 300 touches. Running backs coach Kyle Caskey compared his second-year back to Reggie Bush and noted they want to use him more at wideout next season, per Dehner Jr.:

"We want to do more with him because he can do that. It's not just put him in the slot. We want him everywhere on the field. Make people guess where's he at. You have to make a decision to either play the run or play the pass. What do you do when he's on the field? He's a lot like Reggie Bush where you have to be aware at all times."

It makes a ton of sense when one recalls the Bengals let screen-reliant wideout and gadget-play extraordinaire Andrew Hawkins leave via free agency this offseason.
It is a staggering amount of production if it comes to fruition. As a sophomore, Ray Rice's carries exploded from 107 to 254 (1,339 yards and seven scores), and he caught a career-high 78 passes (702 yards and a touchdown) to come in as the fourth-highest scorer at the position.

Also remember that the totals are not that out of the ordinary for coordinator Hue Jackson, who is committed to a run-first approach this season to better help along Dalton.

In charge of Oakland's offense in 2010 and 2011, the Raiders finished second and seventh, respectively, in rushing yards and Darren McFadden posted career-high averages of 5.2 and 5.4 yards per carry.

The majority of Cincinnati's offensive line, which ranked in the top 10 in run-blocking at PFF last season, returns as well.

While there is always an injury concern, if that is a major deterrent for owners with a player who has yet to miss time, it might be better off to not even play fantasy football.
As things stand, BJGE may not even be on the roster in 2014, let alone get past Hill on the depth chart. When Hill does see carries in short-yardage situations, that in no way means Bernard will be off the field. In fact, Jackson may elect to go away from the predictable rush between the tackles and get the ball to his shifty playmaker on a screen pass.

The point is, Bernard is in for a major year and one of the safer fantasy risks available at a position that is shaky at best. He will reap the benefits of the talent around him and a staff change that will be more consistent in its usage habits.

His ability to outplay an already optimistic ADP is not out of the question given his wealth of talent and a staff that wants to ride him to the postseason.
By | Chris Rolling