GIOVANI BERNARD
NEWS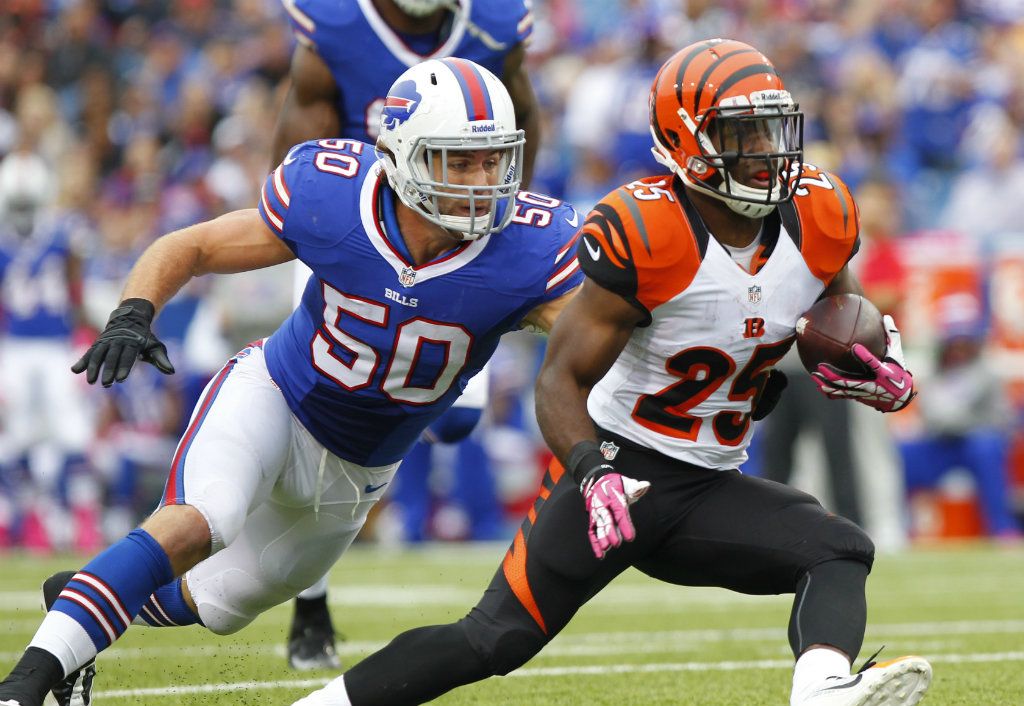 Gio Bernard, Jeremy Hill's Fantasy Outlook After BenJarvus Green-Ellis' Release
POSTED BY: GIOVANI BERNARD in NEWS
The fantasy prospects for both Giovani Bernard and Jeremy Hill just got a lot better with the release of veteran running back BenJarvus Green-Ellis.

While "The Law Firm" led the team in rushing attempts, yards and touchdowns last season, the team announced the roster move on Friday.
We will assume the running back was just released and not killed, but either way, he will not be competing with the Cincinnati Bengals this season.

In reality, this should not affect Bernard from a fantasy football perspective because he was already on his way toward being one of the best running backs in the league. He was dynamic as a rookie last season as he accumulated 1,209 yards from scrimmage and eight touchdowns despite limited touches.

The only problem was his lack of touches, as he managed just 170 carries and 56 receptions. Regardless of who else was in the backfield, fans should have expected an increased workload for the talented running back.
According to ESPN, the running back has been selected on average with the 28.9th pick in fantasy drafts. With so much uncertainty at the position across the league, this is too low, as players should be willing to risk a second-round pick on a player capable of being a top-10 running back in fantasy football.

The person most affected by this roster move is Hill. The second-round pick in the 2014 draft has the size to be a force inside, similar to what Green-Ellis provided at his best. Considering the veteran totaled 220 rushing attempts last season, there are a lot of extra touches to go around.
In Week 4 of the preseason against the Indianapolis Colts, Hill totaled 90 yards on 20 carries as well as 70 receiving yards on six catches. When asked about the heavy workload for the rookie, head coach Marvin Lewis explained, via Bengals.com:

"Jeremy has to understand what it's like to be an NFL running back. We aren't five deep. When we get to Sundays and we go down to 46 guys, and if he's going to be the guy, then he's going to have to be able to shoulder the load. You can get some good conditioning out here tonight. He's going to learn to run with his pads down and protect the football. They were good snaps for him to learn with tonight."

Lewis is preparing the young player for what could be a busy season for the running back. Bernard remains the go-to option, but Hill will certainly get carries and could be a threat near the goal line as well.

He is certainly worthy of a late-round pick in fantasy drafts if you get the opportunity.
By | Rob Goldberg