GIOVANI BERNARD
NEWS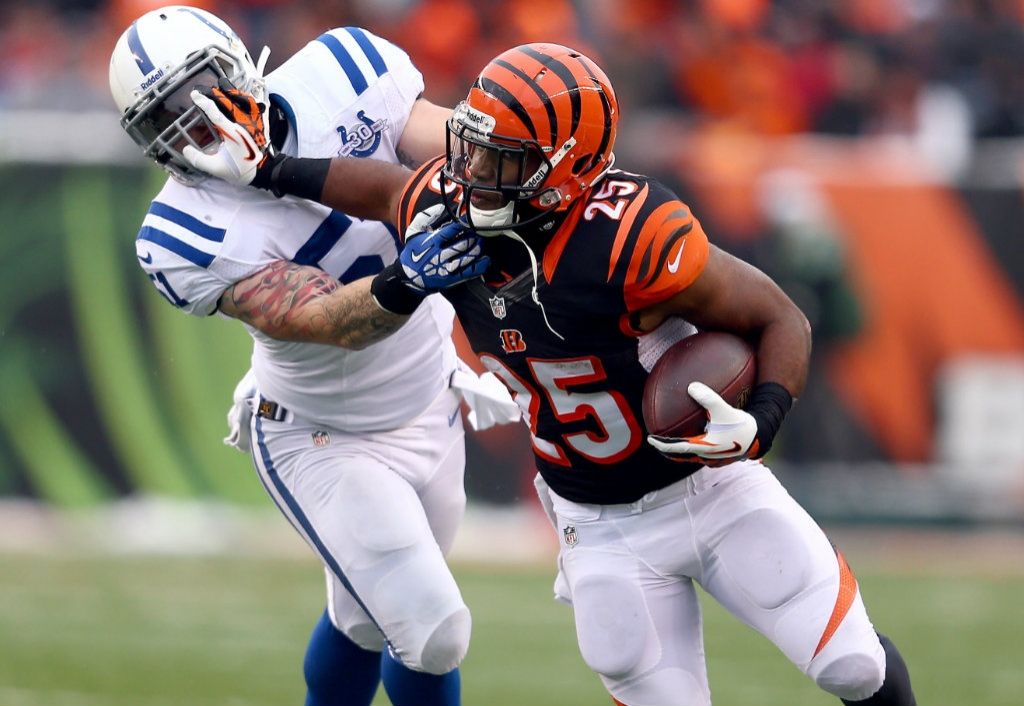 Fantasy Football 2014: Giovani Bernrad, Jordy Nelson, and Jimmy Graham lead list of fantasy stars in Week 2
POSTED BY: GIOVANI BERNARD in NEWS
This might be a quarterback league, but it wasn't a good week for big numbers from the NFL's most important position.

Green Bay's Aaron Rodgers was the only signal caller to eclipse 300 yards. But he wasn't the only star in fantasy play.

Tight ends had a big week, as did five running backs and five wide outs, who racked up big numbers for fantasy owners.

Here is this week's list of fantasy studs.

Quarterbacks

Aaron Rodgers, Green Bay: Rodgers was the only QB to throw for 300 yards on the day. He finished with 346 markers and three touchdown strikes to lead the Packers in a comeback victory.

Philip Rivers, San Diego: Rivers had average numbers passing but when you rip the Seattle defense for three touchdowns, you deserve to be on this list.

Running backs

Bobby Rainey, Tampa Bay: No Doug Martin, no problem. Super-sub came in and rushed for 144 yards and added three receptions for 30 yards in rain-soaked Tampa Bay.

Giovani Bernard, Cincinnati: Once AJ Green went out, Andy Dalton went short to Bernard to the tune of five catches for 79 yards. The second-year player added 90 yards and a touchdown on the ground in the Bengals win.

DeMarco Murray, Dallas: Murray is starting to realize his potential. On the heels of a 118-yard performance a week ago, the Cowboys back galloped for 167 yards and a score in the team's road win over Tennessee.

Stevan Ridley, New England: I thought Ridley fell out of favor, but it shows Bill Belichick goes with the hot hand. Ridley finished with 101 yards and a score to get the Patriots back on the winning track.

Arian Foster, Houston: There is something about facing Oakland. Foster ripped this crew again, gashing the defense for 138 yards and a score. He also added two catches for 12 yards.

Wide receivers

Jordy Nelson, Green Bay: No doubt who the go-to guy is in Green Bay. Nelson blistered the Jets porous secondary for nine catches and 209 yards. Oh, don't forget that 80-yard touchdown catch and run.

Dez Bryant, Dallas: When Bryant keeps his mouth shut and plays, he is one of the best. He abused the Titans secondary for 10 catches, 103 yards and a score this week.

Sammy Watkins, Buffalo: This is what the prognosticators were waiting for when the Bills drafted Watkins. The Dolphins secondary had no answer, as the Clemson standout hauled in eight balls for 117 yards and a touchdown. Way to go Rook.

James Jones, Oakland: Raiders rookie Derek Carr has to throw to somebody, and it looks like it is Jones. The former Green Bay receiver finished with nine catches for 112 yards and a score.

Emmanuel Sanders, Denver: I was skeptical about Sanders' worth in 2014, but system means everything. Peyton Manning makes a difference, as Sanders notched 108 yards on eight catches.

Tight ends

Jimmy Graham, New Orleans: No surprise that Graham got the bulk of the work with New Orleans trailing early. He finished with a 10-catch, 118 yard performance that included a pair of scores.

Delanie Walker, Tennessee: Some fantasy owners used a high pick on Walker, and he rewarded them this week. Titans QB Jake Locker found Walker 10 times for 142 yards and a touchdown in the loss.

Antonio Gates, San Diego: Some feel Gates has seen his better days. Well, judging by his seven catches for 96 yards and three scores, one of those days was Sunday.


By | Jeremy Elliott