GIOVANI BERNARD
NEWS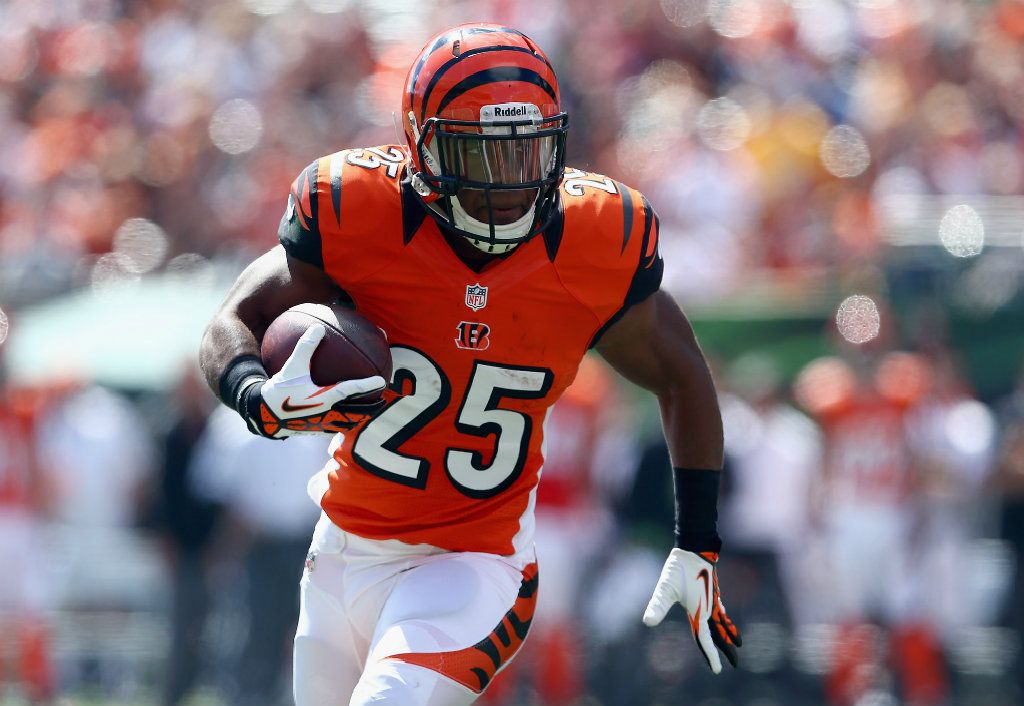 Trip to Foxboro reunites Giovani Bernard with friend who once provided a home
POSTED BY: GIOVANI BERNARD in NEWS
FOXBORO — Words can't express the emotions. It's hard to articulate the level of gratitude that he still feels to this day.
How do you thank the family that took you in? That gave you so much and asked for nothing in return? How do you thank the family that gave you shelter when your only option was to sleep in a car parked on the streets of South Florida?
Giovani Bernard still isn't sure.
It's been about six years since the family of his best friend opened up their home to him. At that point, the high-school senior needed his friend, James White, more than ever. When Bernard was 10 years old, he lost his mother, Jossette, to thyroid cancer, but continued to live with his father, Yvens, at their Boca Raton home. But during Bernard's senior year, his dad fell on hard times.
After losing his dry-cleaning business, he eventually lost the house. Yvens couldn't afford to pay rent. Their only option for shelter was a car. That's when White's parents, Tyrone and Lisa, intervened. With their oldest son, Tyrone Jr., off to college at Central Florida, they had a spare room. They had a safe haven.
And on that day, Giovani Bernard became a part of the family. He and James White were always close, but bonded even more through hard times.
"I consider [White] my brother. There was never a time that I didn't consider him that," Bernard said. "His family did so much for me. And my family understands the extent that [the White] family went through for us and for me. No matter how many times you say thank you or do this or do that for them, it doesn't go up to the point to how much they helped me out. Their family means a lot to me."
Bernard's father found a small, rundown apartment, but for that entire year, the two running backs lived together before going off to college — Bernard to North Carolina and White to Wisconsin.
"His dad was moving from job to job. Our senior year Giovani Bernard moved in with me," James White said. "And then his dad [found] a place to stay. He'd go over there sometimes on the weekend and stuff. But he was pretty much like my brother. We treated him like family and still do."
The two followed each other's lead all throughout high school. On Sunday night, they'll live out their NFL dreams together. Bernard Gillette Stadium as the Cincinnati Bengals' star running back; White is a rookie looking to establish himself with the Patriots.
THEY WERE SET to become rivals, really.
They played the same position, entered St. Thomas Aquinas High School in Fort Lauderdale at the same time, and competed years before that in a youth football league — Bernard with the Boca Jets and White with the Pasadena Panthers.
But from the moment they stepped on that South Florida high-school campus, their personalities clicked and they were inseparable. In addition to being running backs, they were both outfielders — White in center field and Bernard in right — for the baseball team.
"I mean, we played against each other pretty much every year in Little League," White said. "We competed with each other when we weren't on the same team and when we were on the same team. We just tried to make each other better players."
"We'd just have fun out there, joke around together and track balls down," Bernard added.
But it didn't stop there.
George Smith, the St. Thomas Aquinas coach at the time, still calls White and Bernard "the twins." In a school that enrolls 2,200 students, he has a hard time remembering a time when they were not together.
"These guys marched through the classrooms, the hallways, lunch and then on the athletic fields [together]," Smith said. "It was funny because they marched on the same path. They were very good students. Athletically, they were both football and baseball guys, and very accomplished at those sports. It was almost like a twin thing."
"Even before I really moved in and got settled in with them, people knew. It was like James and Gio," Bernard said. "It's not like we tried to be attached at the hip. … It wasn't something we planned on — we were just really good friends. It was a brotherhood. That's really what it went down to."
And it went beyond sports.
During their senior prom, once one decided he was going stag, so did the other. Bernard still remembers White's dad taking pictures of the two in their tuxedos before they left. And he still has the photo of their entire group of friends, everyone posed and holding their dates — except for two future NFL players in the front, together.
It's Bernard's favorite memory.
"I didn't go with anybody and he didn't go with anybody," Bernard said, before laughing. "That picture, it's a whole group, everybody has their own dates and me and James were in the front. It was funny."
THEY SAY you are the company you keep. And for White and Bernard, they learned plenty from each other on and off the field.
For White, it's all about reacting. When the 2014 fourth-round draft pick has the ball in his hands, he doesn't want to think. He wants to play fast, react and make people miss, just like his friend. Bernard heads into Sunday's matchup against the Patriots as a duel threat. The second-year player is on pace to run for 987 yards and catch 64 passes for 789 yards.
"For him, he creates something out of nothing. It's a God-given ability that he has," White said. "Even when there's something not there, he can create something and make people miss and take it the distance. That's something I admire from him."
For Bernard, it's also about reacting. He's always admired White's demeanor off the field. He was always upbeat. When Bernard earned more playing time as a high school sophomore, White never held it against him. Like a brother, he cheered him on, even if it meant fewer carries for himself. It's that part of his friend that he tries to take with him.
"It was moreso how he reacted when things weren't going right," Bernard said. "James was never the person to get down about things."
It means the world to both running backs that they're not only in the NFL together, but that their teams will face off on Sunday. Bernard has high hopes for White. And after appearing in his first game last week, White said he's motivated by his friend's success.
"For sure. I know that he can do it. I know that I can do it," White said. "We've practiced against each other. We've played against each other. We've competed with one another. He gives me confidence."
Their high-school coach, Smith, is one who believes that White will follow in the same footsteps.
"They're both special runners. They're both built up the same. They're both durable and they both can catch the ball out of the backfield," Smith said. "Once again, like twins."
Source:
By Mark Daniels | Providence Journal | October 4, 2014
http://www.providencejournal.com/sports/patriots/content/20141004-trip-to-foxboro-reunites-giovani-bernard-with-friend-who-once-provided-a-home.ece