GIOVANI BERNARD
NEWS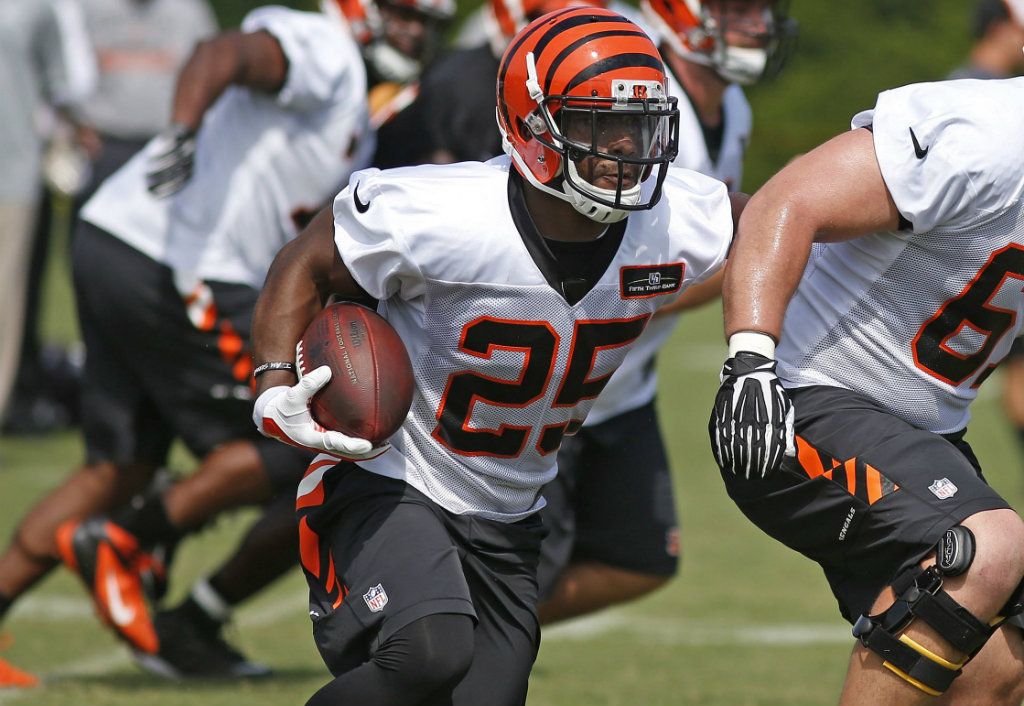 Bengals Must Increase Gio Bernard's Targets to Compensate for Offensive Injuries
POSTED BY: GIOVANI BERNARD in NEWS
With Marvin Jones, Tyler Eifert and A.J. Green hurt, Giovani Bernard needs to be getting more passing targets than he has this season.

Cincinnati Bengals running back Giovani Bernard is one of the most versatile players at his position in the NFL. Whether running with the ball or catching passes, he's a playmaker in nearly every game he's in.

In 2013, his rookie season, Bernard rushed 170 times for 695 yards and five scores and caught 56 passes on 71 targets for 514 yards and three touchdowns. He had 1,209 yards from scrimmage and was not only the Bengals' second-leading rusher, he was also their third-leading receiver.

With Hue Jackson, the running backs coach, taking over offensive coordinator duties for the departed Jay Gruden, it was believed Bernard would be an even bigger part of the game plan. Jackson was excited immediately at the prospect, saying Bernard is "going to have a lot [of carries]. I can promise you."

The carries part of the equation appears to be true. He's already rushed 86 times for 384 yards and four touchdowns. What's off, however, is his passing targets. Quarterback Andy Dalton has thrown to him just 27 times, netting Bernard 18 receptions for 178 yards.

In the past two weeks, Bernard has been targeted the same amount as fellow back Jeremy Hill—eight times, with three targets in Week 5 against the New England Patriots and five targets in Week 6 against the Carolina Panthers.

This is concerning on two levels. One, the Bengals targeting Hill as much as Bernard makes no sense, as Bernard is more likely to gain yards, especially after the catch. And two, even if Hill is getting eight targets over two games, that should mean 10 or more for Bernard in the same span, especially with so many key components to the passing offense currently injured.

At present, Bernard is on pace for 86 passing targets on the season, barely a noticeable increase from his rookie year. And this, with Marvin Jones now on injured reserve for the season after his ankle injury did not improve and A.J. Green missing Week 6 with a toe injury and potentially out for longer, according to Jason Marcum and Anthony Cosenza of Cincy Jungle. Tight end Tyler Eifert won't be back until next month after suffering a dislocated elbow in Week 1.

Yes, the Bengals have a 3-1-1 record without Jones stepping foot on the field and the offense managed 37 points in its Week 6 tie with the Panthers without Jones, Green or Eifert.

Further, the Bengals are doing a good job of spreading the ball around in their absence, with Brandon Tate and Dane Sanzenbacher among those getting targets from Dalton and Mohamed Sanu taking on the role of the No. 1 wideout. The Bengals also signed drop-prone receiver Greg Little this week to add depth.

While Green and Eifert will be back, Jones was placed on injured reserve earlier this week, ending his season.

Jackson is confident that the Bengals' offensive diversity will carry them through no matter who is or is not injured, saying to ESPN.com's Coley Harvey on Tuesday, "We are a multiple-formation team. So there's a lot of different guys [who] can touch the ball. That keeps us with the ability to not have the offense come to a screeching halt."

That's all well and good of course, but it does not explain why Bernard appears to be less involved in the passing offense this year even though he has the skill set to excel at it.

Bernard's speed and burst makes him elusive and hard to tackle in the open field. According to Pro Football Focus (subscription required), Bernard ranks fourth among backs in yards after contact at 256. This ability to force missed tackles as well as to break them is also reflected in Bernard's 177 yards after the catch.

With Jones out for the year and Green out potentially until Week 8, the receiving game lacks a speed component outside of Sanu. Yet the Bengals seem to desire Bernard's speed be showcased by using him mostly as a runner; him as a pass target appears to be more of an afterthought this year.

Bernard has forced 15 missed tackles this season, and his two runs of 15 or more yards have netted him 105 yards total. He's caught 66.7 percent of the passes thrown to him and has just one drop. He's on the field for 72.4 percent of the Bengals' offensive snaps and has run 101 routes despite only being thrown to 27 times. He should be getting more targets.

Bernard had an 89-yard touchdown run in Week 6; runs like these should result in more overall touches for him, including passing targets.
Bringing on Little isn't going to help the passing offense—he had eight dropped passes on 88 targets last year and nine drops on 87 targets the year before. His hands are stone and his feet are lead—he's the opposite of everything Bernard brings to the table in the passing game.

Bernard should simply be getting more targets rather than the Bengals bringing on a Raiders and Browns castoff like Little. Bernard is a playmaker who can certainly fill the voids of Green and Jones. The Bengals, however, have chosen not to maximize Bernard's talents, preferring instead that his yardage primarily comes from running the ball.

The Bengals are in a tough battle to win the AFC North for a second year, dropping to second place behind the Baltimore Ravens after Week 6's tie. There are tough contests ahead—the Indianapolis Colts this Sunday, the Ravens in Week 8, the Browns in Week 9, a three-game road trip from Weeks 10 through 13 and then closing the season with three of their final four games occurring within the division.

Cincinnati must get the most out of its offensive players from now until the end of the season to remain competitive, especially with the defense floundering both in the pass rush and defending the run. While it may not have hurt the Bengals to not have Bernard more involved as a receiver, it will certainly help them to increase his targets.

When it comes to offensive playmakers, the Bengals are thin at present. Bernard is doing a great job running the ball, and when he's thrown to he's also making plays. He's serving up quite a strong argument for why he should be catching significantly more passes. Doing so would only make the offense even better.
Source:
By Andrea Hangst | AFC North Lead Writer | October 16, 2014
http://bleacherreport.com/articles/2233882-bengals-must-increase-gio-bernards-targets-to-compensate-for-offensive-injuries