GIOVANI BERNARD
NEWS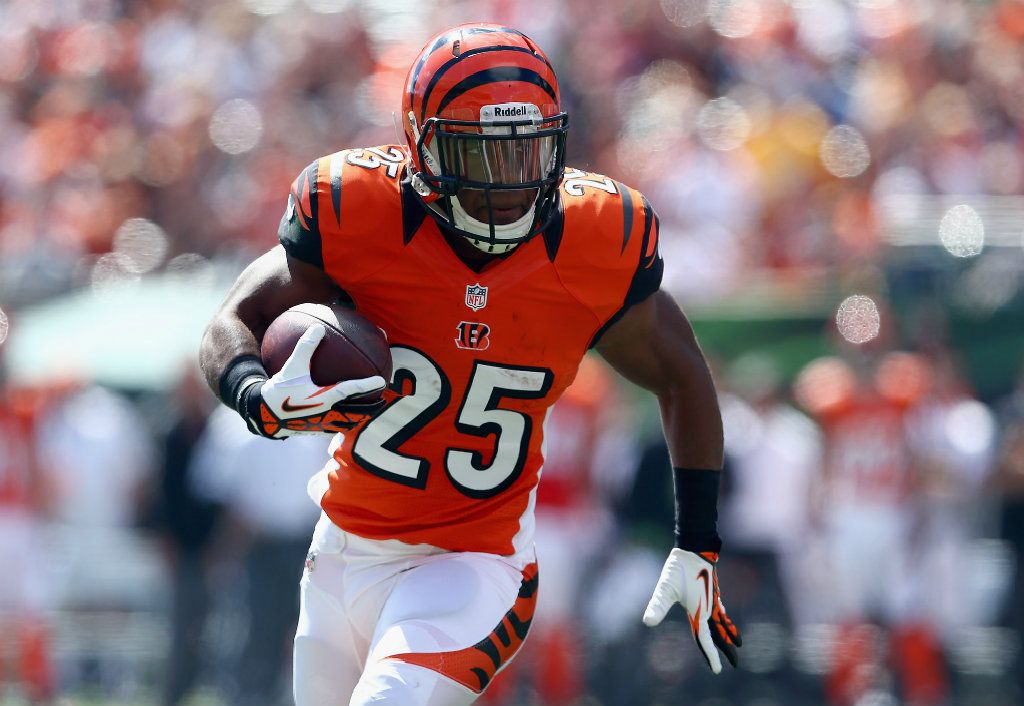 Gio Bernard Shares His Expectations for Himself and Cincinnati Bengals in 2014
POSTED BY: GIOVANI BERNARD in NEWS
Giovani Bernard doesn't care about your fantasy team.

The Cincinnati Bengals running back certainly wants to do well and understands how he performs on a weekly basis affects a lot of other people. He just doesn't seem to have a whole lot of sympathy for fantasy owners, especially since entering the NFL.

Saying that he "hates" fantasy football, Bernard elaborated, "It's more so that people take it to a point where it's almost bashing the players rather than just saying that this player couldn't do much. It's my second year. Last year, I was a bit of an underdog, but this year, people are expecting [me] to do good. It's not that I don't want to do good—I do—but people take it to a different realm.

"I wouldn't say that it's upsetting, but it's disrespectful to the game."

Bernard's aversion to fantasy football didn't start with life in the pros. He said he played in a league while at college, but life as a Division I student-athlete didn't leave a whole lot of extra time for managing his team. "I just left it and didn't check it," Bernard said.

Still, every player needs to wind down, and Bernard spoke with Bleacher Report as part of a campaign for Call of Duty: Advanced Warfare. Many players I speak to love the game and use it to bond with teammates or family, but Bernard said he uses it to stay connected with former North Carolina teammates.
Bernard has fond memories of guys at UNC grabbing the game as quickly as they could, and he forged friendships with former roommate Tre Boston (now a safety for the Carolina Panthers) and James Hurst (now left tackle for the Baltimore Ravens), who he calls the best video game player he knows.

He just doesn't have as much time to play as he might like, because he and the Bengals have important work to do.

Pressed to give more than just a stock answer about the Bengals' goals for the season, Bernard finally laughed and offered, "A playoff game."

The Bengals know what people say about them—how they can't get over the hump, how head coach Marvin Lewis or quarterback Andy Dalton just don't have what it takes to win a playoff game—and they're desperate to prove the naysayers wrong.

Naysayers like myself or Greg A. Bedard of MMQB, who wrote earlier this year:
So, yes, Dalton did a good job of executing a talented offense on arguably one of the league's best-stocked rosters in the regular season. But …

"What about the postseason? The Bengals and Dalton are 0-3 in the playoffs while averaging of 11 points per game, including a 27-10 home loss to the Chargers in January."
Asked what will help them to that end, Bernard was quick to point out new offensive coordinator Hue Jackson, who took over for now-Washington head coach Jay Gruden. Dalton had similar sentiments when I talked to him back in September.
So, noting how both Washington fans are excited about Gruden and Bengals fans are excited about Jackson, I asked Bernard what it was about Jackson that was different or better than Gruden. Mostly, he said, it's about attitude.

"We got a new offensive coordinator in Hue Jackson and he's got a brilliance for the game. He brings a whole different mindset. Just in how we approach every single game," Bernard said. "Gruden is a more laid-back guy. He's not the guy to get in your face. Jackson is the type of guy who expects everyone to do their job and holds them accountable—a lot more in your face."

For himself, Bernard claims he's not a big statistical projection guy and that he's always felt goals should be more team-oriented. When he critiques his own play, though, he usually asks questions like "Did I have any mental errors?" or "Did I miss a block?"
Stat-wise, Bernard only cares about his yards per carry (currently 4.3 yards per carry on the season), because he says running backs can't control how often they get the ball.

This season, Bernard has become one of the league's most versatile backs. While he's right that he can't control how much he gets the ball, he's certainly done his level best to earn as many carries and targets as the Bengals offense can give him, and he's rewarded them with some of the best performances of any running back in 2014.

One can wonder whether that trend continues or if it's sustainable, but the things that make Bernard great—his drive, his attention to detail, he selfless attitude and his tremendous burst and athleticism—don't just go away, and it's almost impossible to game-plan for a guy who can beat you in so many different ways.

For those reasons, Bernard is looking forward to a great sophomore season, which is good for the Bengals and maybe even a plus for your fantasy team (whether Bernard cares about that or not).

Still, Bernard says, it's all about the Super Bowl: "Arizona's a great place, and I'd love to be there in February."
Source:
By Michael Schottey | bleacherreport.com | October 22, 2014
http://bleacherreport.com/articles/2241532-gio-bernard-shares-his-expectations-for-himself-and-cincinnati-bengals-in-2014