GIOVANI BERNARD
NEWS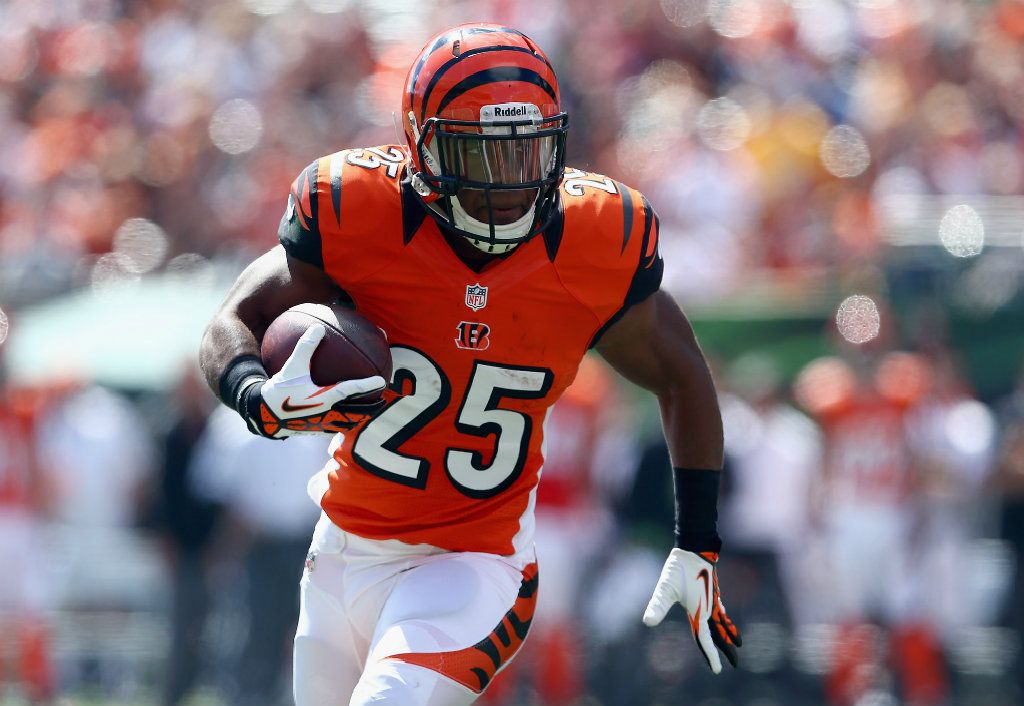 Bengals try to Coast to fifth straight postseason
POSTED BY: GIOVANI BERNARD in NEWS
The Bengals are going Hollywood in more ways than one in 2015 when they eye their fifth straight post-season berth with four prime-time games that tie a franchise record and spice a schedule that puts them in the Pacific Time zone three times and the Mountain Time zone once.

When the NFL schedule was released Tuesday night, the Bengals could breathe a sigh of relief with the four travel games pretty well spread out, except for the 15th and 16th games of the season set in San Francisco Dec. 20 and Denver Dec. 28, respectively. It's believed the Bengals requested the league for two back-to-back West Coast games so they could stay put and travel just once.

But the rough edge on the other side of the coin is the Bengals have the second toughest schedule in the league behind the Steelers, along with a 1-12 record in road prime-time games under head coach Marvin Lewis.

The NFL apparently couldn't guarantee back-to-backs it because it also would have had to do it for the Ravens, an AFC North team that also has four games in the most distant time zones. The Ravens did get back-to-back games twice, opening the season in Denver Sept. 13 and going to Oakland Sept. 20. Then they go to San Francisco Oct. 18 and have eight days before they go ESPN Monday night in Arizona. Yet they also don't have back-to-back games in California.

It could all balance out. Unlike the Bengals, the Ravens have five of the first seven on the road and their Thursday night game is on the road in Pittsburgh. But while the Bengals play two of their last three out west, the Ravens have three straight at home before ending the season in Cincinnati Jan. 3.
The Bengals could conceivably stay out west after they play in San Francisco and will keep it as an option. Yet some of the things working against staying are it is Christmas week and they get an extra day off because the Broncos game is set for Monday Night on ESPN.
For the second straight year the Bengals end the Monday Night regular season against Denver quarterback Peyton Manning, the man they beat for the first time ever in eight tries last year at Paul Brown Stadium. Also for the second straight year they host Cleveland in an NFL Network game on Thursday night Nov. 5 before playing Houston in an ESPN Monday night game at PBS eleven days later. When the Bengals play in San Francisco Dec. 20, they'll be on NBC's Sunday Night football.
Bengals season tickets are on sale at this time, with seat locations priced as low as $35 per game. To order seats, call the Bengals Ticket Hotline at 513-621-TDTD (8383) or go online to Bengals.com.
Season ticket customers benefit from discounted prices, preferred seating locations, playoff priority, and special events available exclusively to Bengals Season Ticket Members.
Information regarding the availability of mini-packs and single-game tickets will be released at a future date.
The Bengals also went prime time four times in 1990 and 2007. Counting the preseason prime timer in Tampa Bay, the total of five ties the 2007 mark, when they also had four in the regular season and one in the preseason.
"I say every year that we already have known all our home and road opponents for the year, but the four national games do stick out," said Bengals head coach Marvin Lewis in a news release. "It's a compliment to our franchise, and a challenge for the team, and exciting for our fans to have the two home games in November. The other thing you look at as a coach is closing the season against Baltimore, when you expect there could be a lot at stake."
TV broadcasts of the Bengals' four games on cable, one in preseason and three in the regular season, are simulcast in Cincinnati by a local non-cable station yet to be determined. Since all Sunday games from week 11-17 are subject to possible flex among the three standard kickoff times, the only Bengals game in play is the one in San Francisco.
Naturally, the Bengals start their sojourn with their first West Coast opener since 1992 in Seattle when they head to Oakland on Sept. 13, where they have yet to win in 10 tries. Thanks to the Reds playing at home each opening weekend, the five-year era of A.J. Green and Andy Dalton has never started at PBS and the Bengals are working on six straight openers on the road, when they are 2-3.
But they'll have to figure out how to win out there all year. The back-to-back travel games are historic hallenges since they haven't won in San Francisco since 1974 and in Denver since 1975, seasons Bengals quarterback Ken Anderson won the first of his two back-to-back NFL passing titles. Plus, there's the staging challenge stemming from the 3-7 record the Green-Dalton Bengals have in prime time.
The four games in the two most distant time zones are the most on their schedule in 21 years, when the 1994 Bengals went 1-3 on trips to Seattle, San Diego, Arizona and Denver.
The 1990 Bengals won the AFC Central Division splitting the difference with wins in San Diego and Los Angeles and losses in Los Angeles and Seattle when L.A. housed both the Raiders and the Rams. Their season ended with a fifth West Coast game when the Raiders won an AFC Divisional playoff game in The Coliseum.
Since the AFC North has drawn the AFC West and NFC West this season, the Bengals aren't alone. Both Cincinnati and Baltimore are playing in Denver, Oakland, Arizona, and San Francisco. Pittsburgh and Cleveland only drew two of the games on the road and both travel to Seattle and San Diego.
The 2013 Bengals cut a break one way with Denver, Oakland, and San Francisco all hiring new coaching staffs.
Under Lewis, the Bengals are 4-8 in both time zones. After losing eight of his first nine games out there, Lewis has seen his club win three straight, beginning with a 2011 win in Seattle before they beat the Chargers back-to-back in 2012 and 2013.
In his seven seasons coaching the Ravens, John Harbaugh is 4-3 in Pacific and Mountain games, including a playoff win in Denver. Pittsburgh head coach Mike Tomlin is 2-7 in Pacific and Mountain games since he took over in 2007.
"I don't think (the travel) will be a challenge," Dalton said. ""I am sure we will have a good set up to make it work...Two big games on the road at the end of the season. I like the set up of it."
At 19-13 (.594), according to Elias, Dalton is behind only Tom Brady (.680), Manning (.633) and Tony Romo (.613) when it comes to road winning percentage among quarterbacks with at least 25 away starts. So they've got a pretty good mindset already.
"Not if we play good," said left tackle Andrew Whitworth of potential problems on the road."This team can beat anyone on any given day, and anywhere. We just have to put the work in and go prove it.
"Looks fun. If we want to be champs, we have to beat 'em in any order they put 'em. What matters is what are we doing right now to beat those teams. That's my focus."
Source:
By Geoff Hobson | Bengals.com | April 21, 2015
http://www.bengals.com/news/article-1/Bengals-try-to-Coast-to-fifth-straight-postseason/a477a18c-3f99-4265-84fd-4b4cf808c672